Arg Karim Khan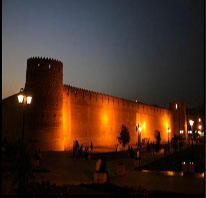 ARG-E KARIM KHAN
The biggest and the most important building of Zand Dynasty.
Residence of Karim Khan and where he ruled.
With four circular towers, one of which on the southeastern side has a distinctive slope. Restoration is continuing. Decoration of this complex has been destroyed.
The area of whole place is 12800 square meter (42,240 sq. ft), the height of each tower is 14 meter (46').
Above the entrance is a large tile image of the killing of the white devil by Rustam. Made during Ghajar dynasty which was added later to the Arg.
Inside the Arg, there are different buildings, the north building was used in the winter, the south building for summer use, and west building was four all seasons.
Outside of the building has simple presentation but on the contrary inside the rooms have beautiful decorations which is the characteristic of buildings during Karim Khan. There are fountains still in operation, flower and vegetalbe gardens and fruit trees. Work is in progress trying to save and restore the Arg.